Getting ready for Step 1 and 2
---
Posted on January 21, 2020 by Carol McPhail
Carol McPhail
---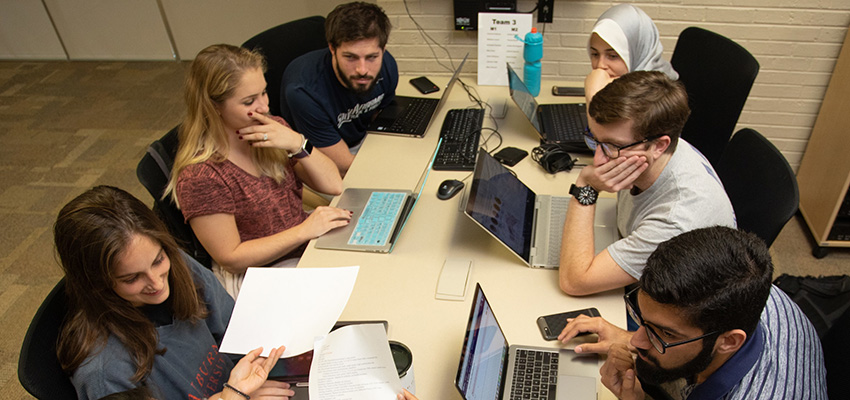 ---
Sandwiched between the general shock of the first year of medical school and the interviews of the fourth year, the USMLE Step 1 and Step 2 exams loom large for all second- and third-year medical students.
"It's the one thing that all residency applications have in common," said Timothy Gilbert, Ed.D., assistant dean for accreditation and planning at the University of South Alabama College of Medicine. "It's definitely the gatekeeper."
Gilbert and T.J. Hundley, M.D., associate dean for medical education, offered their advice for how to prepare for Step 1, which tests basic scientific principles, and Step 2 CK, which assesses clinical knowledge.
"I tell them to not wait until the last minute," Hundley said in January. "I would say that many of the second-year students who are getting ready to take Step 1 this semester are already studying."
Both Gilbert and Hundley advise relying heavily on practice questions to make the best use of time. Several study-prep services can provide question banks. "I tell students all the time that if they do plenty of questions before they take the test, they won't have any surprises on test day," Gilbert said. "They simply cannot do too many practice questions."
Practice allows students to identify their weaknesses, whether it is their approach to multiple choice test-taking or a deficit in a particular subject. "They can identify what it is they do wrong on multiple-choice questions," Gilbert said. "Using a football analogy, it's like watching film on themselves."
Students should also avoid getting stuck or "hyper-focused" on a question. "They'll miss a question down the page because they're still thinking about a question they didn't know," he said.
When Hundley speaks to groups of medical students, he advises them to find someone they trust to help them review test-taking skills and go over a study plan.
Over the past few years, students at the USA College of Medicine have scored at or above the national average on the Step 1, and above the national average on Step 2. Needless to say, the pressure is on for students to keep up the good work.
So, how do medical students, who are already high achieving, avoid burnout?
"Make an effort to try to decrease the pressure. Be proactive in your studying," Hundley said. "I advise students to schedule time to do things that they enjoy and recharge their batteries."
Hundley and Gilbert advise maintaining a regular sleep schedule, getting adequate nutrition and hydration -- "no binge eating or fast food" -- and building exercise into a daily plan. "We know how the brain works and how it processes information," Gilbert said. "Exercise gives the brain a bath -- a fresh blood supply."
Developing strategies to face the challenges of Step 1 and 2 can help students face other challenges in the future. "These types of exams continue. Specialties and subspecialties have board exams," Gilbert said. "Understanding what it takes to be successful stays with them."
---
---