Try research or mentoring this summer
---
Posted on February 22, 2021 by Nichelle Smith
Nichelle Smith
---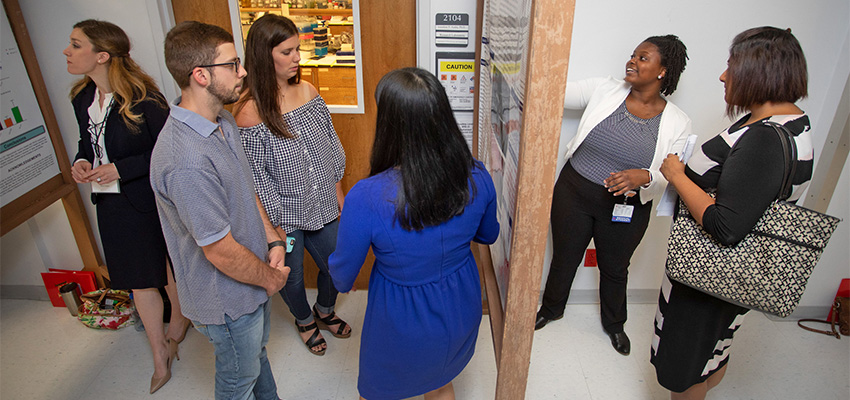 ---
No summer plans yet? The University of South Alabama College of Medicine has you covered.
Medical Student Summer Research Program
"We are looking forward to having the summer research program back again," said Kelly Roveda, M.D., associate dean for student affairs at the USA College of Medicine. "Even though we are still in COVID-19 impacted times, we are in a different position than we were last May when we were shutting everything down."
Through the Medical Student Research Program, students develop an appreciation of how research contributes to the knowledge and the practice of medicine. Accepted entering medical students and rising second-year medical students at the USA College of Medicine are eligible to participate. The summer experience includes:
Hands-on research related to basic science and/or clinical medicine.
A seminar program that focuses on various scientific and clinical topics. This year, the Friday seminars will be held virtually via Zoom to reduce opportunities to be in close contact.
Student presentations on Research Day.
"We do have a fair number of people doing virtual research already that has been mainly with Dr. Casey Daniel," Roveda said. "Opportunities are there, and Casey has worked hard to make them available because research experience is important for our students."
After all, scientific research never really stops, even during a global pandemic. "Having the opportunity to participate in hands-on research increases the future physician's respect and appreciation for the attention to detail that must be maintained in the research labs in order to provide better and safer clinical outcomes for patients," Roveda added.
"Since last year was canceled, we are really looking forward to this coming year and are hoping for a really strong program," said Casey Daniel, Ph.D., M.P.H., an assistant professor of family medicine at the USA College of Medicine. "It is a win-win for both faculty mentors and medical students."
Office of Diversity and Inclusion Summer Program Assistant
The Office of Diversity and Inclusion (ODI) is looking for two first-year medical students who are excited about sharing their medical school experience with future medical students and aiding the coordination of students through their summer experience. The program assistants will serve as liaisons for incoming students in the Diversity Recruitment and Enrichment for Admission into Medicine (DREAM) and SouthMed Prep Scholars (SMPS) program for summer 2021.
Franklin Trimm, M.D., associate dean of diversity and inclusion and assistant vice president for medical affairs at the USA College of Medicine, said participating in the program is equally beneficial for medical students and program participants alike.
"It is really helpful for participants of the program to have medical students who have just completed their first year offer advice and information about what our program has to offer," he said. "For medical students, it is an opportunity to build leadership skills, to individually and personally contribute to a more diverse workforce in the future and to help continue to build their own knowledge base."
ODI program assistants will be responsible for:
Interpersonal communication with DREAM/SMPS students and the Office of Diversity and Inclusion.
Development and facilitation of MCAT study sessions.
Observation of student academic progress in partnership with ODI.
Participation and design input of clinical case discussions.
Reinforcement of professional skills development for students, such as interview tactics, writing personal statements and interpersonal communications.
The stipend provided will be equivalent to the USA College of Medicine Summer Research Program. Serving as a program assistant precludes participating in the summer research program. For questions regarding this role, please contact ODI Diversity Coordinator LoRen Burroughs Modisa at lburroughs@southalabama.edu.
---
---