New programs reflect USA Health's growth
---
Posted on August 8, 2022 by Carol McPhail
Carol McPhail
---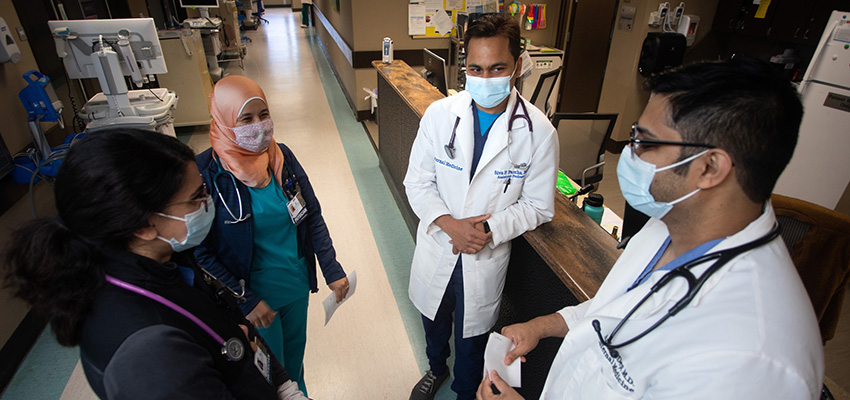 Siva Parcha, M.D., second from right, assistant professor of internal medicine, rounds at University Hospital with a team of internal medicine residents, from left, Seema Mir, M.D., Samar Abohamad, M.D., and Andrew Dep, M.D.
Download larger image
---
Graduate medical education at USA Health continues to expand as it welcomes a new family medicine obstetrics fellowship, celebrates the first graduating class of emergency medicine residents, and monitors the continued progress of the sports medicine fellowship for family medicine.
"Having this many new programs is a marker of the growth we have experienced at USA Health," said Judy Blair-Elortegui, M.D., designated institutional officer for graduate medical education. "It's evident the expansion of our academic health system in recent years has provided new learning opportunities and resources for our trainees, enhancing their educational experience."
The overall institution and many of the fellowship and residency training programs recently received renewals from the Accreditation Council for Graduate Medical Education (ACGME). Other programs have been reviewed, and the review committees for them will meet in the future to make final determinations.
USA Health's sports medicine fellowship for family medicine and the emergency medicine residency program, which were under initial accreditation, now have full accreditation and are under continued accreditation status.
The addiction medicine fellowship for psychiatry underwent its site review in May and is awaiting its committee's report. The three-year gynecologic oncology fellowship program is still in its initial accreditation period as it welcomes its second fellow. New programs have formal site visits approximately two years following their establishment.
"Every year, the institutional program and each of the individual programs undergo an online renewal process," Blair-Elortegui said. "We submit information related to program performance, any major changes in the program, and information related to compliance with the ACGME requirements."
Periodically, the ACGME conducts a site visit to provide a more in-depth review of the program or sponsoring institution. Since COVID, these site visits have been conducted virtually. Additionally, faculty and residents complete an annual survey. The responses from the residents are weighed heavily in the reaccreditation process.
Along with the institutional program renewal, the programs for pediatrics, family medicine, sports medicine, internal medicine, cardiology, gastroenterology, pulmonary critical care, medical oncology, neurology, clinical neurophysiology, obstetrics and gynecology, orthopaedic surgery, pathology, psychiatry, child and adolescent psychiatry, general surgery, surgery critical care, and combined internal medicine-pediatrics all received continued accreditation.
---
---