Inaugural class graduates from Emergency Medicine Residency Program
---
Posted on August 8, 2022 by Carol McPhail
Carol McPhail
---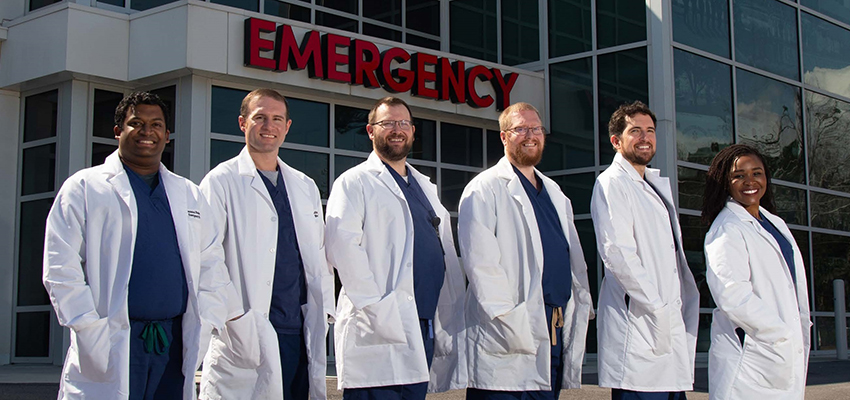 From left, Andy Nadarajan, M.D.; Alexander Angelidis, D.O.; Christopher Musselwhite, M.D.; Blake Holloway, M.D.; Kyle Beasley, M.D.; and Elizabeth Ekpo, M.D., were members of the inaugural class of emergency medicine residents.
Download larger image
---
The USA Health Department of Emergency Medicine recently celebrated the graduation of its inaugural class of residents.
The three-year residency program welcomed its first residents in July 2019. Since its inception, the program has grown to include six residents per year for a total of 18 residents. One of the program's goals is to help meet the shortage of board-certified emergency physicians in the state of Alabama.
Christopher Musselwhite, M.D., of Ocean Springs, Mississippi, graduated from the Frederick P. Whiddon College of Medicine at the University of South Alabama in 2019. A former officer in the U.S. Coast Guard, he was one of the first physicians to match in USA Health's newly established Emergency Medicine Residency Program.
During his third year of residency, Musselwhite was named a chief resident. He helped to guide the emergency medicine program through its first year with a full complement of residents, including pioneering numerous well-being events and implementing online scheduling.
Upon completing his residency training, Musselwhite joined USA Health as an emergency medicine physician and the Whiddon College of Medicine as the assistant clerkship director for emergency medicine.
"I appreciate the education I received from the College of Medicine as a medical student and from USA Health as a resident, and I look forward to continuing helping to train and teach future physicians," he said.
Alexander Angelidis, D.O., who also served as a chief resident, said he enjoyed "leading from the front," helping to shape the new program by providing structure and organization, and advocating for his fellow residents.
Angelidis is a flight surgeon, which is a military medical officer who cares for pilots and crew members. He will continue his active-duty service in the U.S. Army in Georgia.
Kyle Beasley, M.D., and Elizabeth Ekpo, M.D., are emergency physicians in private practice in Texas. Blake Holloway, M.D., is an emergency physician in Huntsville, Alabama.
Andy Nadarajan, M.D., is starting a critical care fellowship at the University of Alabama at Birmingham.
---
---