Resident Profile: Melody Zeidan, M.D.
---
Posted on August 8, 2022 by Carol McPhail
Carol McPhail
---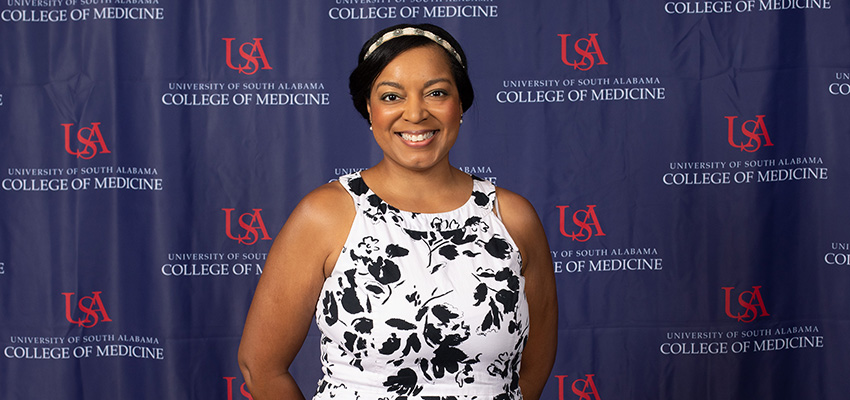 ---
Melody Zeidan, M.D.
PGY-1, General Surgery
Hometown: Camden, Alabama
College: University of Alabama; Vanderbilt University Law School
Medical School: Frederick P. Whiddon College of Medicine at the University of South Alabama
My typical day: Depending on the rotation I'm on, my day-to-day routine can vary widely, which is one of my favorite things about surgery. On days when I have OR cases, I arrive at 6 a.m. to get check-out from the night team, then I round on the inpatients with my team before heading to the operating room. Some surgeries are very short, while others may take all day. On other days, I might have a half day or a full day of clinic after early morning rounds. Getting to see post-op patients doing well is incredibly rewarding, as is getting to meet new patients and possibly schedule them for surgery as well! I'm usually out of the hospital shortly after checking out my patients to the night team at 6 p.m., then I head home for dinner with my husband and our three children.
What I like most about being a resident: "I can't say enough about the emphasis that the program places on physicians helping each other succeed. There is an all-encompassing atmosphere of encouragement and support, with both residents and attendings lifting each other up and pushing each other to achieve. That kind of collegiality and focus on professional as well as personal success is really rare."
Fun fact(s) about me: Being a general surgery intern is pretty time-consuming. When I'm not at the hospital or hanging out with my family, I really enjoy sewing, trying out craft beers from the local breweries, or hitting up the karaoke scene.
---
---