Grilled Cauliflower Steaks
---
Posted on July 29, 2021 by Muhammad Tahir, M.D.
Muhammad Tahir, M.D.
---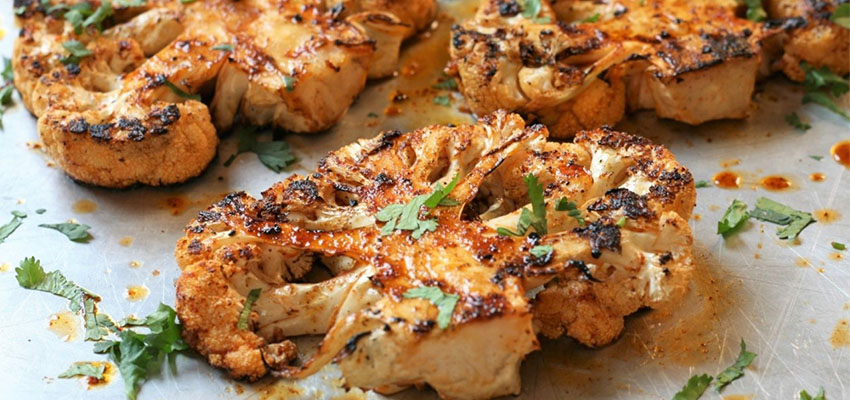 ---
I have always enjoyed cooking and playing around with different spice combinations. This is one of my favorite vegetarian recipes because it is quick, easy and healthy. I also enjoy entertaining, and gathering with friends and family for meals, and this recipe is very conscious of any dietary restrictions someone may have. You can add your favorite spices and completely change the flavors. The brown sugar and paprika give this recipe an awesome caramelized and smoky taste. I like my cauliflower a little on the firm side, so add a few extra minutes to the cooking time if you like it softer.
Ingredients
¼ cup olive oil
1 lemon, juiced
2 cloves garlic, minced
1 teaspoon salt
1 teaspoon smoked paprika
1 teaspoon brown sugar
½ teaspoon chili powder
1 pinch ground black pepper to taste
1 teaspoon of soy/soya sauce
½ teaspoon of cumin powder 2 large heads of cauliflower
Directions
1. Preheat grill to medium-high heat and lightly oil the grate.
2. Whisk oil, lemon juice, garlic, salt, smoked paprika, brown sugar, chili powder and black pepper together in a bowl. Set aside.
3. Remove the tough bottom leaves from each cauliflower, taking care not to remove the stem. Place the cauliflower heads onto a cutting board with the stem side facing upwards; cut vertically on both sides of the stem to remove the loose florets. Reserve florets for another use.
4. Cut each cauliflower vertically through the stem into two even "steaks" 1 to 1 1/2 inches thick. Remove any remaining small leaves from each steak. Place the four steaks on a baking sheet.
5. Brush one side of the steaks with some of the oil mixture. Place steaks on the grill, oiled side down, and grill for 5 minutes. Brush more oil mixture on top of the steaks, and gently flip over. Grill until golden brown and slightly charred, 5 to 7 minutes more. Drizzle with any remaining oil and remove to a plate.
---
---