Day Trip – Discover Ocean Springs
---
Posted on July 29, 2021 by Shelbey Ernest
Shelbey Ernest
---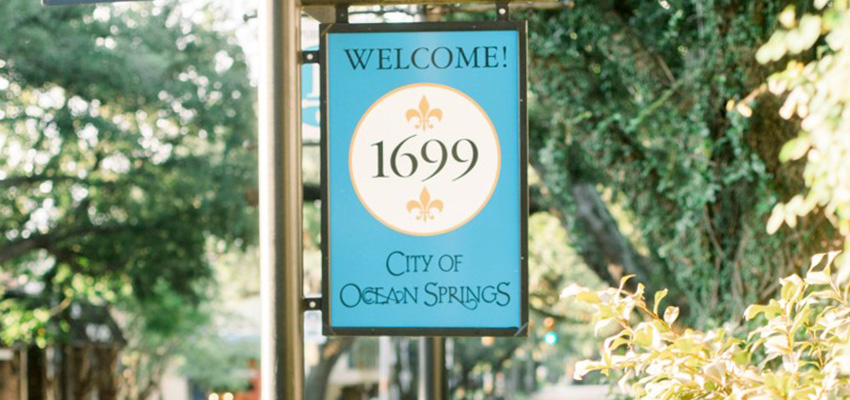 Visitors will find attractions in downtown Ocean Springs easily accessible by foot. Photo courtesy of Brianna Hemphill.
---
The Mississippi Gulf Coast may be known for its casinos, but there is a local treasure just east of the Biloxi Bay Bridge: Ocean Springs, Mississippi.
A little more than an hour's drive by car from Mobile, Ocean Springs is a small city located in the heart of the Mississippi Gulf Coast.
Known for its eclectic art and downtown area, it's a well-kept secret ready to be explored. With as many walking and biking trails as there are shops and restaurants, there's something for visitors to enjoy throughout much of the year.
Live Oaks Bicycle Route
This 15.5-mile roundtrip bike route connects the Ocean Springs Historic L&N Depot to the Davis Bayou area. Full of beautiful scenery, this route is for the avid cycler and the leisure rider. You can pick up a map from the Ocean Springs Chamber of Commerce in downtown, 1000 Washington Ave., or follow the green and white signs posted on the road.
Exploring Downtown
The downtown area resembles downtown Fairhope. There is free parking along all the streets, and everything is within walking range.
Art
Featuring local artists and those from around the United States, Hillyer House, 920 Washington Ave., is an art gallery unlike any other. Celebrating 50 years in business, the shop includes colorful hand-blown wine glasses, lamps and vases. Because they are handmade, every piece is unique. These pieces are available for purchase at the store.
The Walter Anderson Museum of Art is a must-see for all who visit. Named for the artist who created striking images of the natural world, this museum showcases much of the art for which Ocean Springs is known. Located at 510 Washington Ave., the museum is open Monday through Saturday 11 a.m.-5 p.m. and Sunday 1 p.m.-5 p.m.
Near the railroad at the L&N Depot Plaza, you will find the shop Realizations at 1000 Washington Ave. It sells Walter Anderson's art in all forms including hats, postcards, sweatshirts and art prints.
Festivals
During the first weekend of November each year, the city hosts the Peter Anderson Arts & Crafts Festival, a two-day event named for the original Shearwater Pottery's master potter. This free festival started in 1978 to celebrate local artists.
Ocean Springs also will host the Mississippi Songwriters Festival on September 16-19 this year. This festival hosts songwriters of all genres across the state, and you can find yourself lost in the sounds of Mississippi all weekend. The artists will be performing at varying local restaurants in downtown through the weekend.
Shopping
If locally owned shops are your favorite kind, you will love walking on Washington Avenue and Government Street. There are a variety of boutiques, a vintage toy shop and two art shops, where you can buy items you can't find anywhere else. These shops are part of the main attraction Ocean Springs has to offer. Visit Chandeleur Outfitters; Love, ivy and Poppy's. Chandeleur Outfitters is more of a men's shopping store, and Love, ivy is a women's boutique. Poppy's is a larger gift shop with lots of unique items.
You will find a local certified farmers market on Saturday mornings at the L&N Depot. Farmers from the area set up booths and sell local goods including everything from fruits and vegetables to beekeepers' honey and homemade sauces. The Ocean Springs Fresh Market is open on Saturdays, 9 a.m.-1 p.m. On a sunny day, you might be able to purchase fresh flowers from a booth.
Dining
Restaurant choices are abundant here. It's hard to go wrong with any of the dining options in downtown Ocean Springs. Murky Waters BBQ and Phoenicia Gourmet Restaurant are just two of the favorites for locals. There are casual dining options, food trucks and formal dining experiences throughout the area.
For casual dining, try Mosaic Restaurant and Bar. It serves a variety of tapas and many different styles of entrees. You can sit outside and enjoy live music all weekend.
Charred is a steak and oyster bar for fine dining. During the weekend, it serves brunch 10 a.m.-2 p.m., and offers great drink specials to accompany your delicious meal. It's worth visiting anytime you make a trip there.
---
---