USA Health welcomes new residents, fellows
---
Posted on August 3, 2021 by Nichelle Smith
Nichelle Smith
---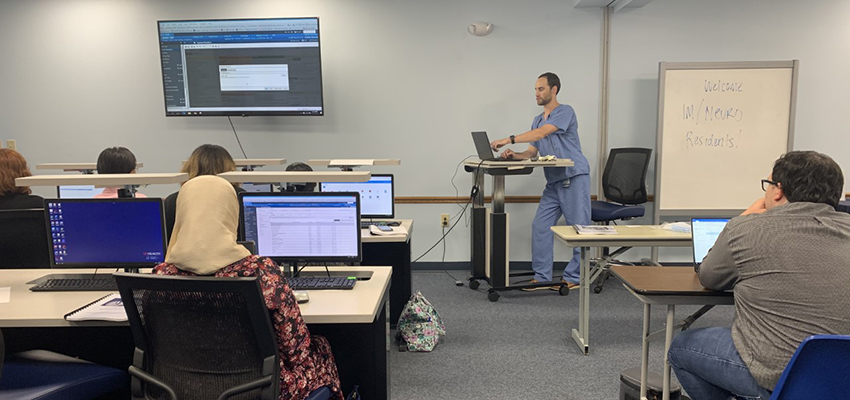 Orientation for new Internal Medicine and Neurology residents
---
This year, USA Health welcomed 82 new residents and nine new fellows to more than 20 different academic programs.
Because of COVID-19 restrictions, this year's orientation was a hybrid approach of virtual and in-person activities.
"There were online educational modules that were completed, as well as in-person orientation and training," said Laura Kessler, institutional graduate medical education accreditation specialist in the office of graduate medical education at USA Health. "The in-person training was split up amongst the different residency and fellowship programs over the course of a week, allowing for smaller groups."
In addition to their individual program orientations, residents participated in sessions on employee benefits and received training on the health system's electronic health record, Cerner. Residents and fellows received their scrubs, ID badges and a gift from the GME office and USA Health. "They enjoyed lunch and were able to meet other residents and fellows who also are beginning this year," Kessler added.
Justine McKee, D.O., a first-year pediatric resident, said she is excited to start the next chapter of her life. "This has been a long journey, and it is an indescribable feeling to have made it this far," she said. "I am excited to be at an academic institution with many different residency and fellowship programs. The camaraderie of all the interns is awesome, and I know we all have each other's backs, regardless of the specialties we belong to.
"I know there is a steep learning curve in transitioning from a fourth-year medical student to becoming a seasoned intern. Thankfully, I know I am part of a program where attendings and upper-level providers truly want to see me succeed."
"Last year was the first time we implemented a hybrid orientation format," said Danielle Haynes, GME accreditation specialist at USA Health. "This year, we incorporated the feedback from last year's residents and worked with the user experience team to customize their Cerner training. The user experience team was able to break down the training by specialty and create user guides for each resident to utilize throughout their training. Revamping the orientation process for the new residents and fellows could not have been accomplished without the collaboration efforts with Human Resources and the user experience team."
With a long history of training physicians, the University of South Alabama and its healthcare system, USA Health, provide training in 22 ACGME-accredited residency and fellowship programs to more than 270 physicians each year.
---
---