Residents and fellows present research at scholarship expo
---
Posted on August 3, 2021 by Lindsay Lyle
Lindsay Lyle
---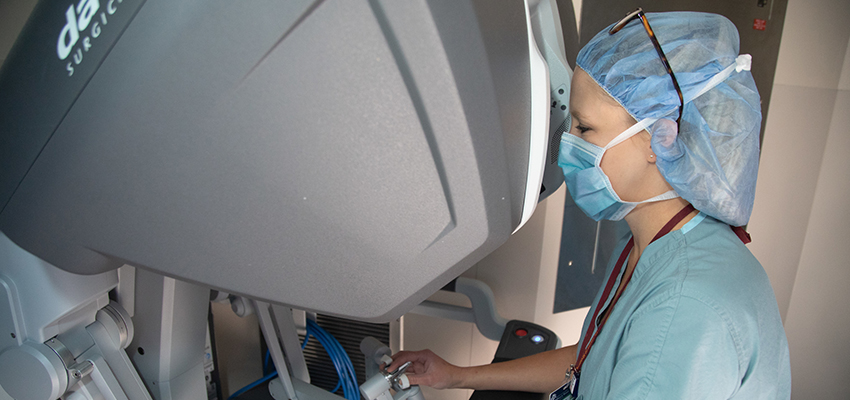 Annelise Wilhite, M.D., the first fellow in USA Health's new ACGME-approved gynecologic oncology fellowship, won in the Clinical and Translational Research Category.
Download larger image
---
After a hiatus last year, the USA Resident and Fellow Scholarship Exposition returned in June 2021 with a new format and participants who were eager to present their research.
The virtual expo, which drew 29 accepted poster entries from 25 participants, was an opportunity for residents and fellows to meet the Accreditation Council of Graduate Medical Education's (ACGME) scholarly activity requirements.
"The ACGME emphasizes that scholarship is an important avenue for physicians in training to learn to think critically, evaluate the literature, appropriately assimilate new knowledge and practice lifelong learning," said Carole Boudreaux, M.D., associate dean of graduate medical education. "Resident and fellow participation in the expo not only supports USA Health's mission as the region's only academic medical center, but also allows participants to build their training experiences as they move toward the next phase of their career pursuits."
The scholarship exposition consisted of three categories: Clinical and Translational Research; Quality Improvement and Performance Improvement; and Clinical Vignettes. Two of the categories – Clinical and Translational Research, and Quality Improvement and Performance Improvement – were judged; and winners received a $300 cash prize.
The Office of Graduate Medical Education collaborated with USA's Innovation in Learning Center to design a virtual exhibit hall for the poster presentations. The exhibit hall had four rooms based on the poster's category and competition eligibility. Posters were displayed in each room along with the author's recorded summary of their poster presentation and a live Zoom link to communicate with the author during the scholarship exposition.
"The virtual exhibit hall was perfect in regard to replicating the experience of walking through an in-person exhibit hall for our attendees," said Tomeika Hawkins-Rodgers, graduate medical education accreditation specialist.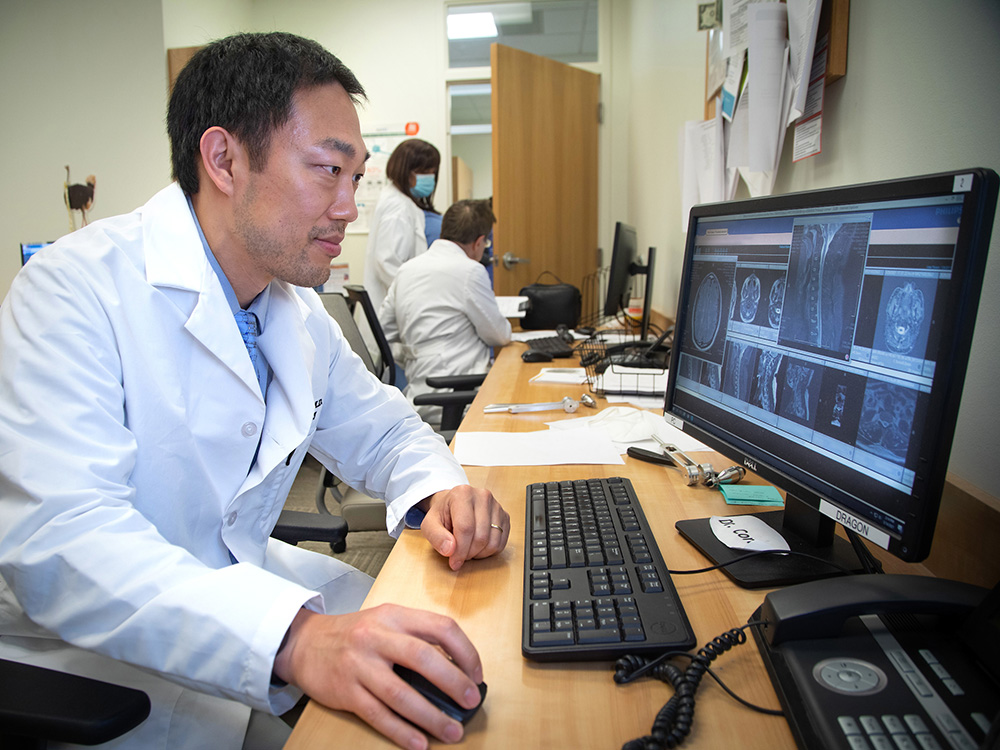 Peter Soh, M.D., a resident in neurology at USA Health, won in the Quality Improvement and Performance Improvement category for his poster, "Thromboprophylaxis for Patients with Intracranial Hemorrhage."
Soh's study showed that in a three-month period, only 10 percent of patients admitted for a non-traumatic brain bleed received medications to prevent thromboembolic events such as clots developing in the legs or lungs. The most common reason providers did not start prophylactic blood thinners was concern for worsening of the brain bleed, Soh said.
Soh shared recommendations on thromboembolism prevention for acute non-traumatic brain bleeds, derived from the American Heart Association and American Stroke Association guidelines. In the follow-up study period, up to 54 percent of patients received the appropriate medicines to prevent potential thromboembolic events. Mechanical thromboprophylaxis, or leg sleeves that intermittently inflate, were started on nearly all patients with non-traumatic brain bleeds who were non-ambulatory.
"Continuing education on this topic and successful execution of this process hopefully will reduce the incidence of blood clots in this vulnerable patient population," Soh concluded.
After completing his residency with USA Health, Soh moved to Hartford, Conn., to begin a fellowship in headache and facial pain at the Hartford HealthCare Headache Center.
Annelise Wilhite, M.D., the first fellow in USA Health's new ACGME-approved gynecologic oncology fellowship, won in the Clinical and Translational Research Category for her poster, "Exploring the Role of PDE10 Inhibition in Ovarian Cancer Carcinogenesis in the Egg-laying Hen Using RNA Sequencing."
"Women are exposed to inflammation every month that they ovulate, and we believe the chronic, repeated exposure to inflammation over time allows for mutations to occur and cancer to develop," Wilhite said. "We think that is why some anti-inflammatory drugs or hormonal prevention of ovulation have a moderately protective effect against ovarian cancer."
Jennifer Scalici, M.D., chief of gynecologic oncology, heads the lab in which Wilhite conducted her research. They have developed an anti-inflammatory drug that inhibits a protein that is involved in ovulation and inflammation in the ovary. Researchers tested the drug on hens – an animal that ovulates daily – to see if it could decrease ovarian cancer development. Then they performed RNA sequencing of the tissue to determine which gene pathways were altered when the drug was given, to help them determine how inhibition of this protein (PDE10) affects cancer development.
"In the untreated hen tumors, many inflammatory and immune pathways were upregulated, as we expected," Wilhite said. "In the treated group, these pathways were not upregulated, which supports our hypothesis that our drug limits inflammation. We also saw a decrease in the overall cancer rate in the treated group."
The lab plans to continue to investigate the drug with mouse studies and run more comprehensive RNA sequencing on the hen tissue, Wilhite said.
"This opportunity has allowed me to gain a better understanding of how cancers and therapies are investigated, and also how to navigate the grant writing process," Wilhite said. "In gynecologic oncology, there is so much still to discover about how cancer develops and behaves, and new therapies are constantly being developed. Because of this, I think having a strong foundation in laboratory research is extremely helpful for physicians in our field, no matter what type of research they end up pursuing."
The virtual exhibit hall is still open for viewing, but new guests will need to enroll first at https://jagsonline.instructure.com/enroll/KGDYGL.
---
---