Executive Nursing Administration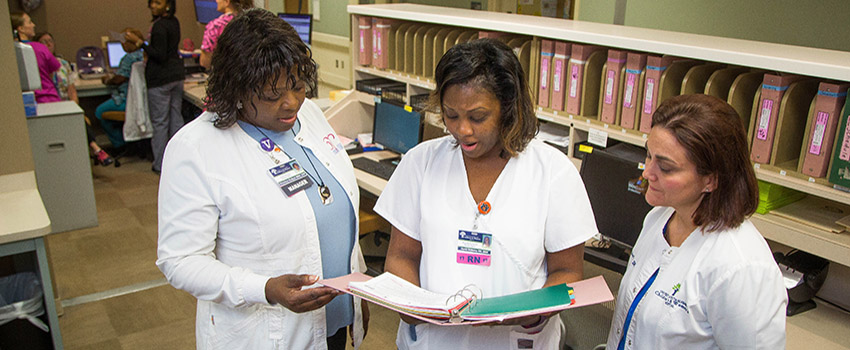 This program prepares students for the advanced nursing specialty role of a nurse executive (Nurse Manager, Director of Nursing, Chief Nurse Executive)
Program Information
This MSN program prepares graduates for nursing leadership positions and doctoral study. Graduates of the program apply advanced administrative, management, leadership, communication, technology, and business skills to lead and manage healthcare organizations. The program is compliant with the Council on Graduate Education for Administration in Nursing criteria and recommendations. Graduates are prepared in foundational knowledge for nursing leadership aligned with the American Nurses Association Nursing Administration Scope and Standards of Practice and the American Organization of Nurse Executive competencies.
Core graduate courses and didactic Executive Nursing Administration courses are available online. Clinical courses are co-requisites of didactic courses. These clinical courses can usually be completed with preceptors in the students' home community. Students are not required to travel to campus; orientation to the program occurs through a web conference.
▼ Executive Nursing Administration Curriculum
BSN-MSN students complete MSN core and MSN specialty courses for a total of 37 credit hours. The MSN degree must be completed within five years of matriculation.
Curriculum
MSN Core Courses
NU 607 - Scientific Underpinnings of Advanced Nursing Practice 3 credit hours
NU 608 - Evidence-Based Practice and Quality Improvement in Healthcare 3 credit hours
NU 610 - Healthcare Policy and Finance 3 credit hours
NU 613 - Organizational & Systems Leadership 3 credit hours
Executive Nursing Administration Specialty Courses
NU 539 - Introduction to Nursing Informatics 3 credit hours
NU 553 Administrative Concepts 2 credit hours
NU 554 Resource Management Field Study – 60 Field Study Hours 1 credit hour
HSC 571 - Managing Healthcare Personnel 3 credit hours
NU 561 - Nursing Administration Concepts & Theory 3 credit hours
NU 565 - Nursing Administration Finance 3 credit hours
NU 566 - Nursing Administration Field Study - 240 Clinical Hours 4 credit hours
NU 567 - Nursing Administration Internship - 180 Clinical Hours 3 credit hours
NU 568 - Nursing Administration Seminar 3 credit hours
RN to MSN students who are registered nurses with a bachelor's degree from an accredited institution in a non-nursing discipline must also complete the following courses.
RN-MSN Courses
NU 506 - Evidence-Based Practice & Informatics for Professional Nurses 4 credit hours
NU 507 - Leadership & Management Roles for Professional Nurses 4 credit hours
NU 508 - Clinical Prevention and Population Health for Professional Nurses 4 credit hours
NU 518 - Advanced Nursing Assessment 3 credit hours
▼ Frequently Asked Questions (FAQs)
What is an executive nurse administrator?
An executive nurse administrator is a nurse who is responsible to lead and manage at all levels of healthcare organizations. Roles of the executive nurse administrator include nurse manager, care manager, supervisor, director of nursing, department director, and chief nurse executive. Executive nurse administrators apply administrative and management principles and leadership skills to influence system change and advance quality and safety within the workplace.
The role of the executive nurse administrator is guided by competencies defined by the American Organization of Nurse Executives and the American Nurses Association. Please see their websites for more details:
Is the entire program online or do I have to come to campus for some classes?
Classes are online. Orientation occurs through a synchronous web conference. Faculty remains engaged with students and preceptors during the program as the student works toward meeting course and program objectives.
Is there a required practice component for the degree? Can I complete clinical hours where I live and who arranges clinical sites?
There is a practice component for the nurse executive administration degree. The clinical experience most commonly occurs within the student's community within driving distance from their home. Students in remote areas sometimes have to travel outside their communities to find clinical sites. Students are responsible for finding appropriate clinical sites. If a student cannot locate a clinical site in their home area, faculty may be able to provide names of nearby sites that have been used by previous Executive Nursing Administration students; however, it is ultimately the student's responsibility to secure a site and preceptor. Students who are unsuccessful in being accepted by an agency in their home community may have to travel to another area to complete practice requirements or withdraw from the program.
What type of preceptor and clinical sites do I need and how many clinical hours are required?
Preceptors for the Executive Nursing Administration field study/internship clinical hours must possess a minimum of a master's degree in nursing or other administrative fields such as business or public health administration. Preferably, preceptors are nurses with an appropriate MSN, DNP, or PhD (with leadership/management focus). Preceptors must be employed as a healthcare manager or administrator and possess enough expertise to provide safe guidance and appropriate education for the ENA student. If your preceptor is not a nurse, discuss your selection with your faculty.
The MSN Executive Nursing Administration clinical experience consists of three semesters of study. Sixty (60) hours of the field study are in the fall semester, two hundred forty (240) hours of the field experience occurs in the spring semester, and one hundred eighty (180) internship hours occur in the summer semester. The 60 hours in the fall field study include experiences with two leaders. The experience in the spring and summer semesters are at one site, with one preceptor (note: if appropriate site and preceptor approved for spring and summer semesters, and is one of the leaders for the 60 hour experience, an agreement may be signed for the year. Seek input/approval from faculty before having dates through summer experience included on agreement).
Executive Nursing Administration MSN clinical courses are taken in the following sequence beginning fall semester:
• NU 554 – Fall semester – 60 clinical hours (contracted clinical site (one or two sites) and two preceptors are required; preceptors must be approved)
• NU 566 – Spring semester – 240 clinical hours (contracted clinical site and preceptor required)
• NU 567 – Summer semester – 180 clinical hours (contracted clinical site and preceptor continue from spring semester)
Where can I find the forms I need to complete an agreement with an organization?
If the organization where you would like to complete your clinical experience is on the Clinical Affiliations list, you may complete a Letter of Notification and Appreciation. Remember to have your preceptor approved before having any documents signed. If the site you want to complete your clinical experience in is not on the affiliation site, and they are willing to sign a "Two page agreement" without revisions, that will be acceptable. If they want revisions to the two page agreement or want to establish affiliation, complete a "Request to Establish an Affiliation Agreement" and email it to dcopeland@southalabama.edu as soon as possible. It sometimes takes weeks, or months to establish an agreement with sites, so the earlier the process begins, the better!
The affiliation list and forms described can be found in the AKESO site, under "Resources". When students are admitted, they will have a sign-on that is used for AKESO. See the Department for Clinical Affairs at https://www.southalabama.edu/colleges/con/clinical/.
Can I complete clinical hours in the hospital, nursing home, home health agency, or other healthcare organization where I work for pay?
The clinical hours may occur in a student's place of employment, but must be outside the normal paid activities of their role/job. For instance, if a student is employed as a nurse manager, the field study experience should broaden his/her management/administrative skills through experience with a
director of nursing, chief nursing officer, or chief executive officer and should not include learning experiences routinely performed as a manager.
What is the role of the faculty?
Faculty has expertise in the area of nursing administration. Faculty establishes course objectives and learning activities. Faculty work closely with students during their field study and internship to advise and direct. Students are expected to communicate regularly with faculty and to seek consultation appropriately. Conference calls with the preceptor, student, and faculty are held at intervals in addition to frequent contact via email or phone.
Is there a "state board" test for Executive Nurse Administrators?
Nurse administrators must be licensed as a registered nurse in the state of practice. There is no "state board" test for Executive Nurse Administrators, however, the program prepares graduates for national certification as a Nurse Administrator (executive or manager level) by the American Nurse Credentialing Center (ANCC) or the American Organization of Nurse Executives (AONE). Faculty encourage students to become board certified as a recognition of their specialty knowledge and skill. The Executive Nursing Administration program does not require completion of a certification exam for program completion nor upon graduation.
Contacts
Please feel free to contact Dr. Donna Copeland for more information about this specialty: dcopeland@southalabama.edu.