Neonatal Nurse Practitioner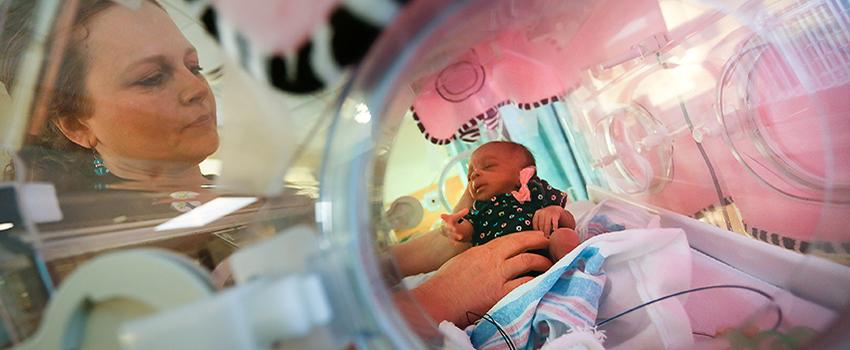 This MSN program prepares graduates for advanced nursing practice and for doctoral study. Graduates of the program are able to synthesize and apply advanced knowledge, theories, and research to a specialized area of nursing practice and function as leaders in practice to contribute to the advancement of the nursing profession.
The Neonatal Nurse Practitioner Track classes are only available online. However, there is a mandatory three (3) to four (4) day orientation held during the fall semester of the first practicum course. Attendance is required and will allow for questions and interaction with course faculty. Various clinical skills workshops will be held during the orientation.
Students enrolled in the NNP program are required to complete clinical hours with a qualified preceptor. The College of Nursing has contracts with agencies in many areas of the U.S. Please review our clinical affiliations list on the College of Nursing website, Clinical Affiliation Agencies to determine if we already have an agreement with an agency in your area where you can complete your clinical hours. If we do not have an agreement with an agency in your geographical location, please contact Dr. Penni C. Huffman at pennicoates@southalabama.edu. prior to submitting your application.
Applicants must have a minimum of 2 years Level III or higher NICU experience prior to starting the specialty option clinical component.
▼ NP Clinical Skills Intensive
All students in the Neonatal Nurse Practitioner specialty are required to attend a mandatory Clinical Skills Intensive (CSI) Orientation provided by the USA Simulation Program on the USA campus during the fall term in which they are registered for MCN 568 and MCN 571. Students have the opportunity to request their preferred group on a first come, first serve basis through the simulation department after the request is sent out during the spring term. Various clinical skills workshops will be held during the orientation.
Please note the dates listed are for Clinical Skills Intensive (CSI) orientation only. The coordinator for each specialty track will provide full orientation dates:
Neonatal NP On-Campus Clinical Skills Intensive Dates:
Session 1: August 25, 2021 (W)
Session 2: August 26, 2021 (Th)
Session 3: August 27, 2021 (F)
The Clinical Skills Intensive and Orientation will take place at USA College of Nursing. You will receive more information as the date approaches via your JAG e-mail. Please make plans to attend.
▼ Neonatal Nurse Practitioner Curriculum
BSN-MSN students complete all support, MSN core, and MSN specialty courses for a total of 45 credit hours. The MSN degree must be completed within five years of matriculation.
Curriculum
Support Courses
NU 518 - Advanced Nursing Assessment 3 credit hours
NU 545 - Physio-pathological Basis of Advanced Nursing 3 credit hours
NU 578 - Pharmacology for Advanced Practice Nurses 3 credit hours
MSN Core Courses
NU 607 - Scientific Underpinnings of Advanced Nursing Practice 3 credit hours
NU 608 - Evidence-Based Practice and Quality Improvement in Healthcare 3 credit hours
NU 610 - Healthcare Policy and Finance 3 credit hours
NU 613 - Organizational & Systems Leadership 3 credit hours
Neonatal NP Specialty Courses
MCN 568 – Introduction to Neonatal NP 3 credit hours
MCN 571 – Health Promotion and Disease Prevention in Neonatal/Pediatric Acute NP 2 credit hours
MCN 572 – Neonatal NP I 3 credit hours
MCN 573 – Neonatal NP Practicum I - 180 Clinical Hours 3 credit hours
MCN 574 – Neonatal NP II 3 credit hours
MCN 575 – Neonatal NP Practicum II - 180 Clinical Hours 3 credit hours
MCN 576 – Neonatal NP Practicum III - 240 Clinical Hours 4 credit hours
MCN 577 – Neonatal NP III 3 credit hours
RN to MSN students who are registered nurses with a bachelor's degree from an accredited institution in a non-nursing discipline must also complete the following courses.
RN-MSN Courses
NU 404 - Evidence Based Practice & Informatics 3 credit hours
NU 450 - Leadership & Management Roles for Professional Nursing Practice 4 credit hours
NU 452 - Clinical Prevention and Population Health 4 credit hours
Contacts
Please feel free to contact Dr. Penni Huffman for more information about this specialty: pennicoates@southalabama.edu.
Promotion Contract
Please refer to the Academic Progression Policy.